Removes up to 97% of common household odours.5
5Tested for removal of grilled salmon and Korean barbeque odour, cat urine odour, tobacco smoke odour and garbage smell to EN 13725

Common household pollutants
Formaldehyde (HCHO)

Carpets, rugs and flooring

PM0.1

Ultrafine particles

PM2.5

Industrial emissions and Haze

PM5.0

Bacteria

PM10

Pollen and allergens

Odours

Household fumes and cooking

Nitrogen dioxide

Gas stoves and car exhausts

Benzene and VOCs

Cleaning products and candles
Our built-in LCD displays the following data in real time:

24-hour air quality graph


PM2.5 level


PM10 level


VOC level


Formaldehyde


NO2 level
Dyson purifiers use not one, but three different types of filter.
Our HEPA+ Carbon filter captures gases and 99.95% of particles as small as PM 0.1. The activated carbon layer absorbs odours and gases including benzene and NO2.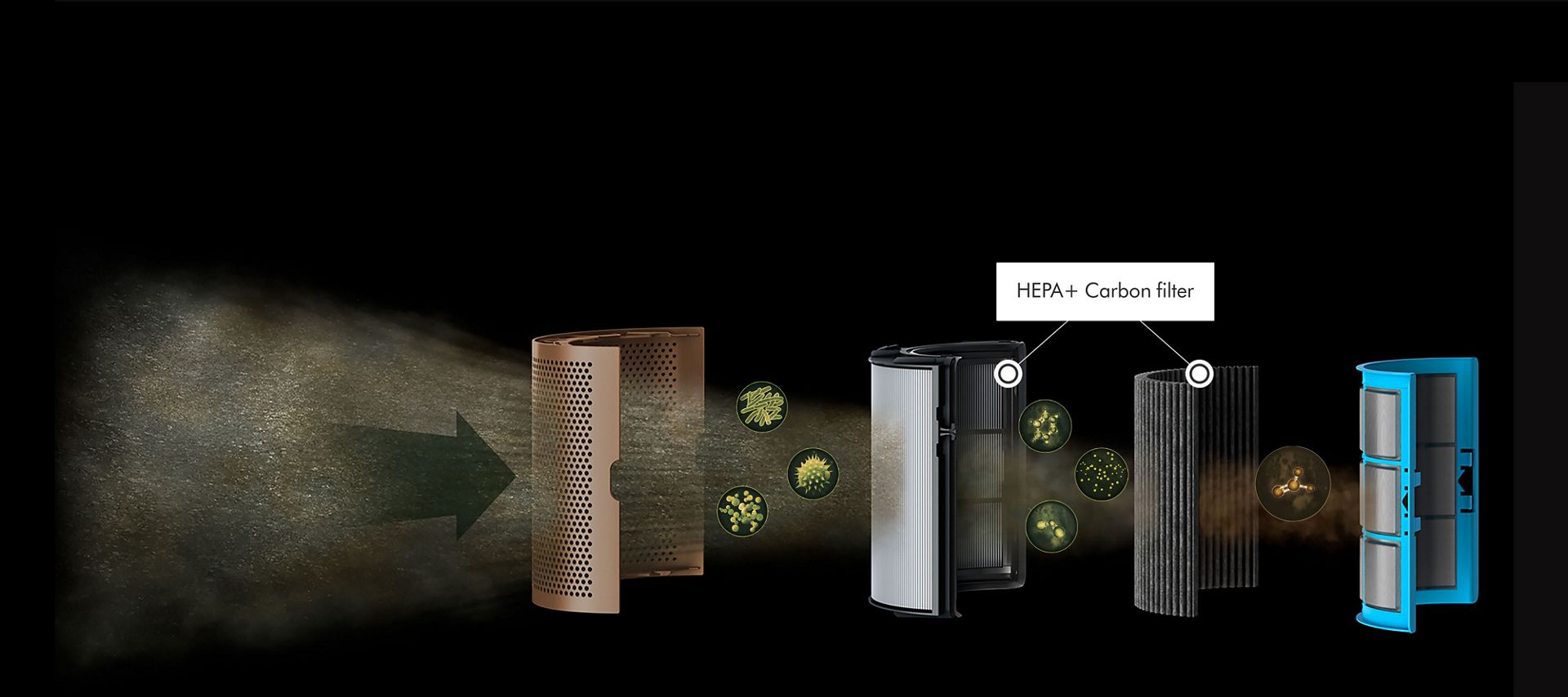 Destroys formaldehyde in billions of catalytic tunnels
Dyson's unique catalytic filter7 continuously traps and converts formaldehyde into water and CO2. And it self-regenerates, so it never needs replacing.

Discover how Dyson engineers ensure Dyson purifiers are capable of whole room filtration.
Diffused mode. Purifies without cooling you.

Airflow is diverted through the back of the machine, maintaining effective purification.

Night mode

For lighter sleepers, it monitors and purifies using the quietest settings along with a dimmed display.

20% quieter

Acoustically engineered to reduce turbulence, so it's 20% quieter than the previous model.

Easy filter care

The catalytic filter9 never needs replacing. And when you need a new HEPA+Carbon filter, the Dyson Link app6 lets you know.

App control

Control and monitor your air quality from anywhere using the Dyson Link app.

Oscillates up to 350°

Adjustable oscillation projects purified air around the whole room.

European Centre for Allergy Research Foundation (ECARF)

The Dyson TP09/TP07/TP7A has been certified by ECARF as allergy friendly.

Get more from your Dyson with the MyDyson™ app

Expert guides and content

From quick-start and how-to guides to understanding different modes and screens. All tailored to you and your machines.

Automated filter alerts

You'll never need to worry about when it's time to replace your filter, as we'll let you know. Helping your machine to always perform at its best.

Tailored 24/7 support

Maintenance advice and troubleshooting, when you need it. You can also activate tailored machine support, direct to your inbox.
1Dyson purifiers were challenged with airborne influenza A (H1N1 virus) and MS2 bacteriophage at independent lab Airmid Healthgroup Ltd (reports between 9 January 2021 and 2 February 2022), using a 30 m3 chamber for 60 minutes at maximum fan speed, forward mode. Real-life efficacy may vary.
2Dyson purifiers were challenged with airborne SARS-CoV-2 (the virus that causes COVID-19) at independent laboratory MRIGlobal (USA) (report: 2 August 2022), using a 0.37 m3 chamber for 90 seconds at maximum fan speed, forward mode. Test results showed reduction of 99.9% of SARS-CoV-2 virus. Dyson Purifiers were also challenged with Phi-6 bacteriophage (a scientifically accepted SARS-CoV-2 surrogate) at independent laboratory Campden BRI (UK) (report: 13 July 2022), using a 30 m3 chamber. After 90 minutes at maximum fan speed, the airborne concentration of Phi-6 in the chamber was reduced by 99.9 %. Real-life efficacy may vary.
3Third party full machine testing based on GB/T 18801-2015 formaldehyde cumulative clean mass testing with continuous injection until plateau of formaldehyde CADR is achieved. Results may vary in practice.
4Tested for filtration efficiency at 0.1 microns (EN1822, ISO29463).
5Tested for removal of grilled salmon and Korean barbeque odour, cat urine odour, tobacco smoke odour and garbage smell to EN 13725.
6Particle challenge by DEHS oil specified in EN1822 within a chamber specified in ASTM F3150. Tested in Max Mode at IBR US, for whole machine efficiency above 99.95%.
7Product and filter images may vary depending on the market and production batch. Product performance is not impacted.
8In maximum setting. Tested for air projection, purification coverage in a 81m3 room.
9Requires device to run app, Wi-Fi or mobile data, Bluetooth 4.0 support, and iOS version 10 or Android version 5 (or above). Standard data and messaging rates may apply.
*Referring to Dyson TP09 and TP07.