A brand new way to clean hard floors
The first omnidirectional Fluffy™ cleaner head. 1
Effortlessly manoeuvres around obstacles and into tight spaces.
Exclusive Offer
Manouverable and compact. Up to 20 minutes of run time. 1.9kg lightweight.
Floats and effortlessly manoeuvers around obstacles and into tight spaces.2
Save IDR 1.600.000.
Buy 2, Save additional 10% at checkout.
BRI Cardholders: Save IDR 500.000 with code 'BRI50'.
Up to 12 month 0% interest instalment at IDR 541.583/month with BRI credit cards.
Omnidirectional Fluffy™ cleaner head

Manoeuvres in all directions for easy, quick pick-ups on hard floors.

Mini motorised tool

Motorised brush bar, concentrated in a smaller head to remove stubborn dirt from mattresses, upholstery and stairs.

Combi-crevice tool

Two tools in one, for versatile cleaning around the home.

Worktop tool

Engineered for cleaning kitchen worktops, tables and hard surfaces.

Charging station

Wall bracket with charging station for tidy storage of your vacuum cleaner.

Charger

Charges your vacuum with or without the wall dock.
Was

IDR 8.099.000
IDR 6.499.000
Save

IDR 1.600.000
One cleaner head.
Two brush bars.
Our first omnidirectional Fluffy™ cleaner head1 has two motorised Fluffy™ rollers to pick up everything from large debris to fine dust – both when moving forwards and backwards.3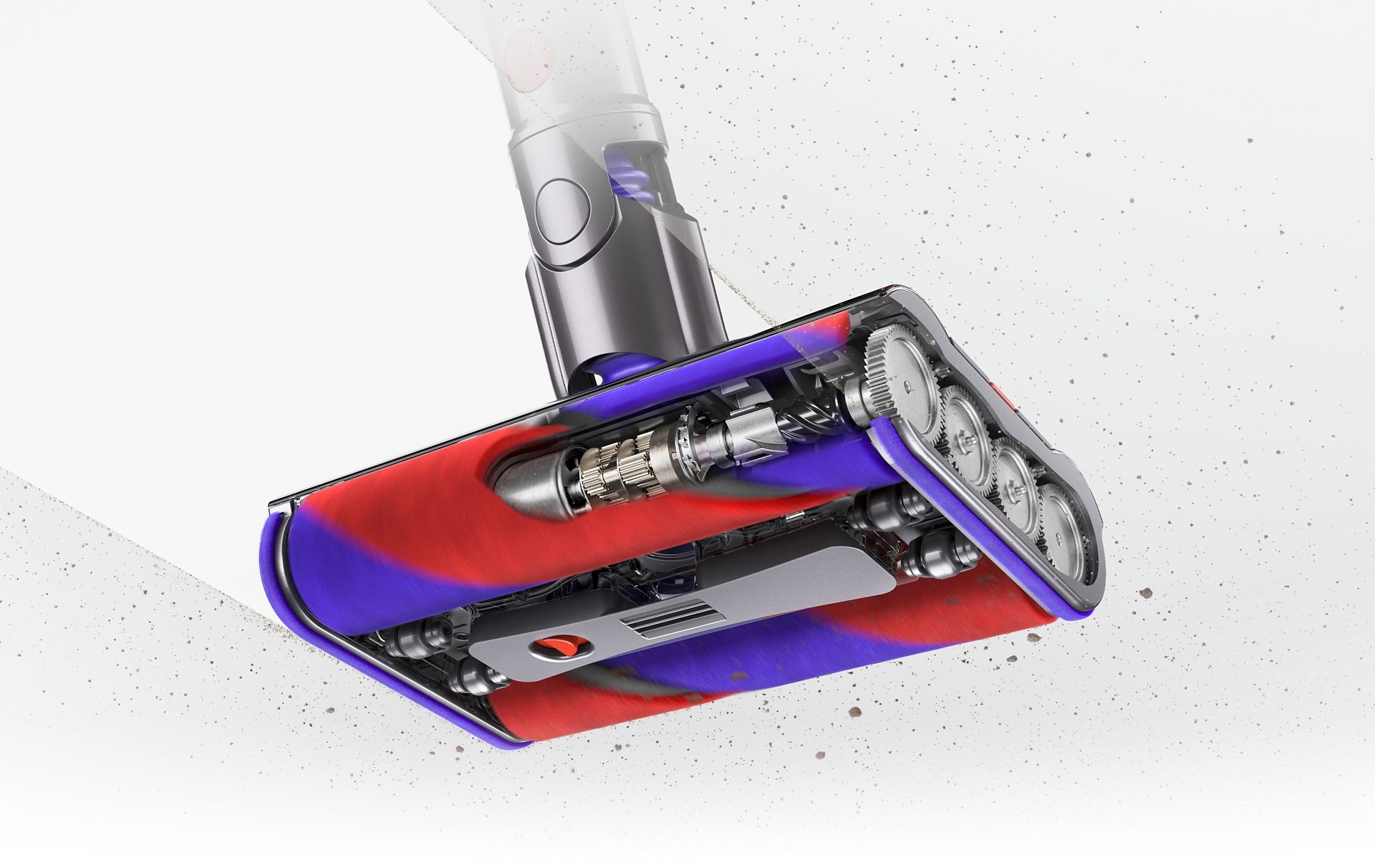 Manoeuvrable mechanism

Four 360° castors allow the cleaner head to manoeuvre in all directions, making it easy to navigate around obstacles and clean in tight spaces.4

Angled carbon fibre filaments

Anti-static black carbon fibre filaments pick up fine dust from hard floors.5

Motorised brush bar

The motor is integrated into the brush bar, allowing uninterrupted cleaning right to the edge of the room.
Floats and manoeuvres around obstacles
The articulating neck and four 360° castors make it effortless to manoeuvre the Dyson Omni-glide™ vacuum around obstacles. It manoeuvres in all directions – forwards, backwards, even sideways.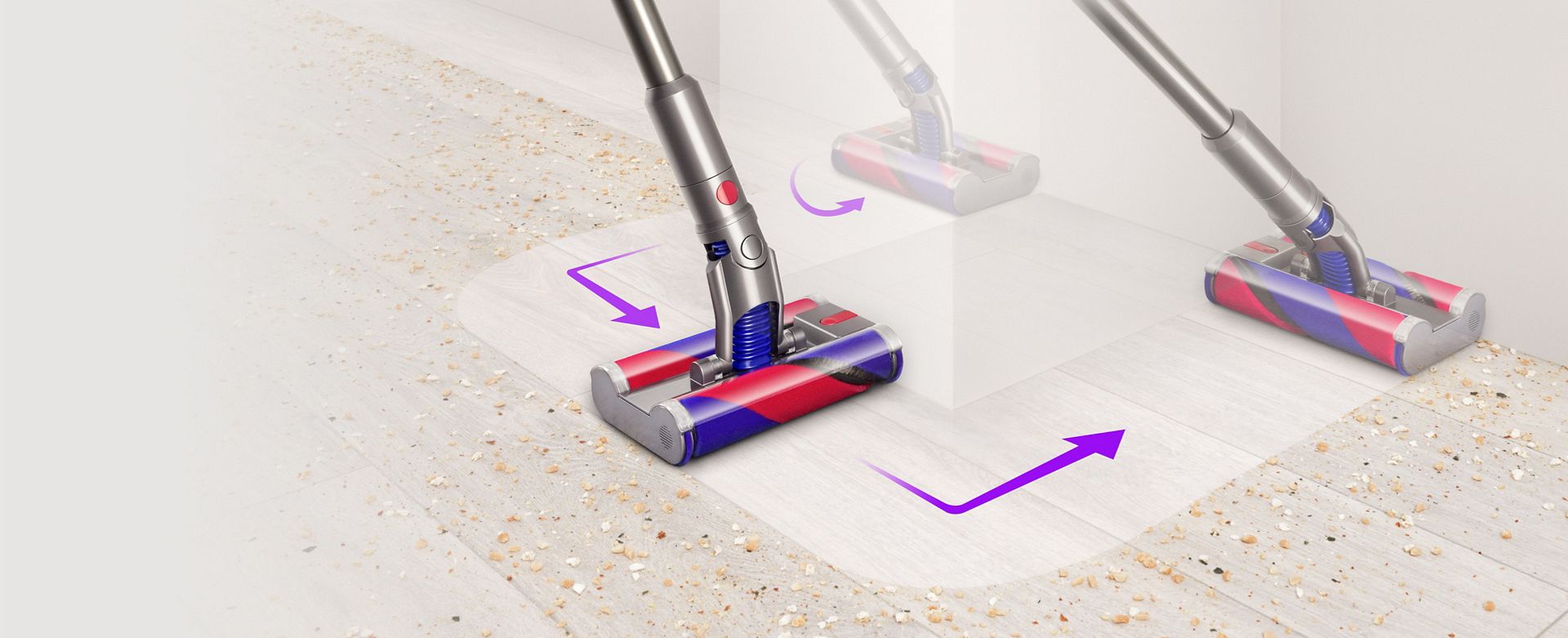 Symmetrical pick up5

Powered by a single motor with a double epicyclic gear box, the brush bars spin at the same speed for pick up in both directions.

Sideways cleaning

Twisting the handle rotates the cleaner head 90° so you can clean sideways, too.

Tight spaces

Narrow cleaner head, engineered to clean hard-to-reach spaces as small as 20.7cm.
Dyson technology concentrated
Dyson's core vacuum technologies, combined to create a powerful, compact and highly-manoeuvrable cordless vacuum.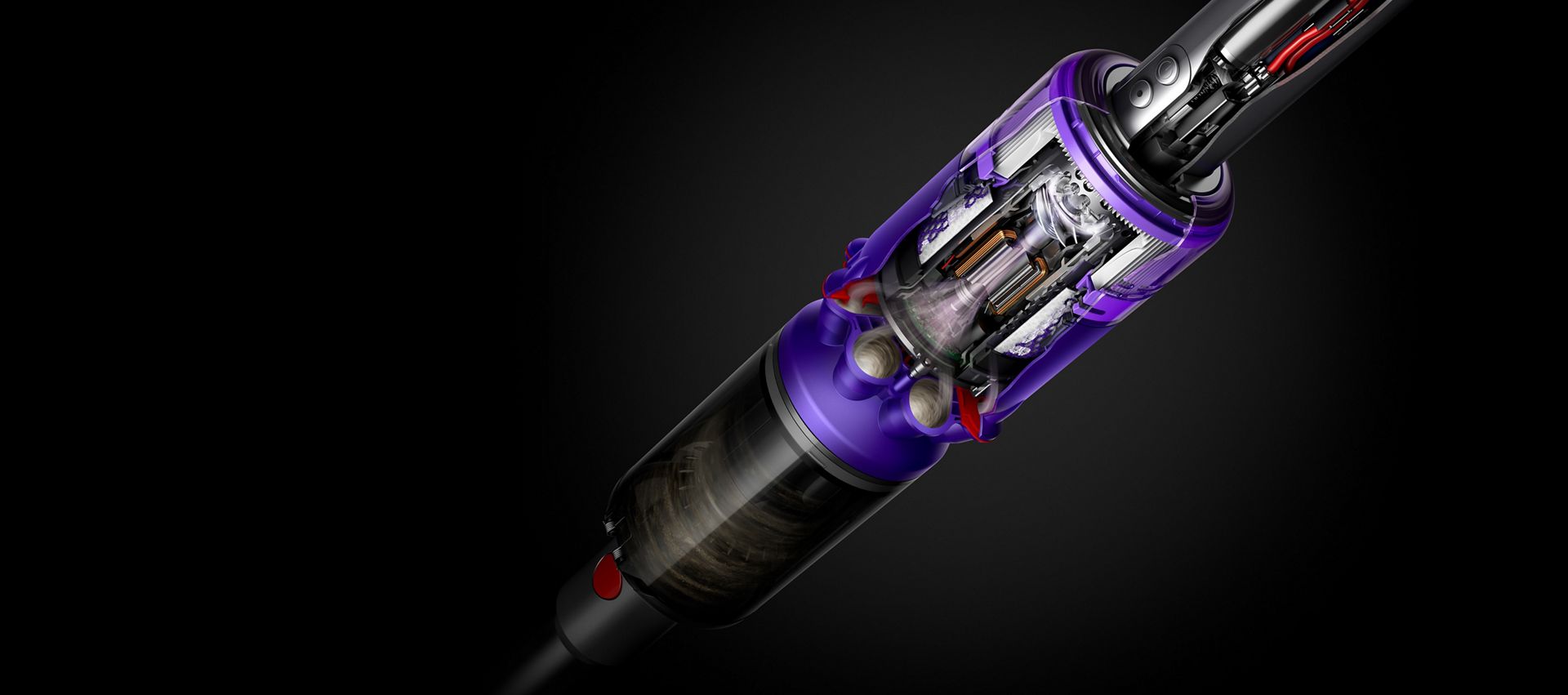 Dyson Hyperdymium™ motor

Small and light. Spins at up to 105,000rpm to create powerful suction on hard floors.

Compact, powerful cyclones

Eight cyclones generate forces of 98,000g to remove microscopic dust from the airflow.

Push-button operation

With power and mode selection buttons instead of a trigger, you can swap hands easily while cleaning around obstacles.
Whole-machine filtration6
The Dyson Omni-glide™ vacuum has five stages of filtration with ePTFE porous membranes that help trap 99.97% of particles down to 0.3 microns.

Reaches further under furniture
An articulating neck allows the machine to lay flat on the floor, so it's easy to clean under low furniture.7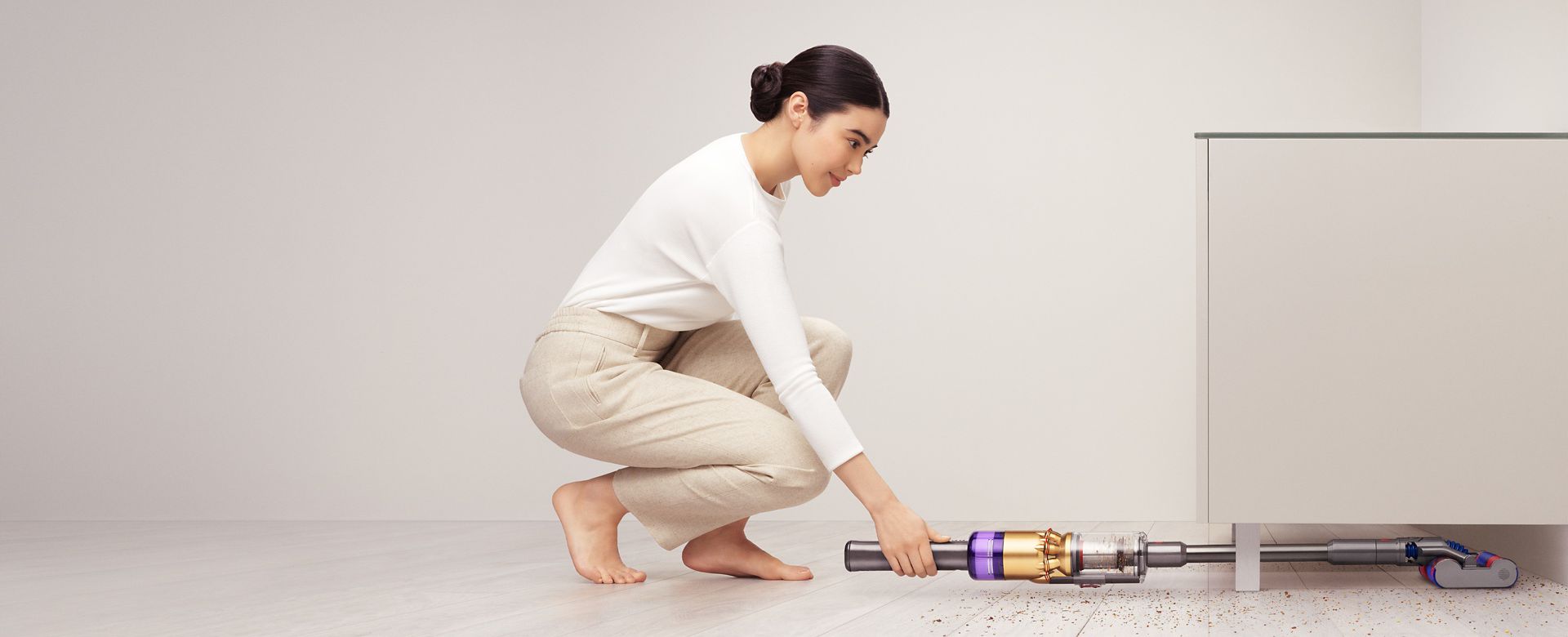 Transforms to a handheld
Quickly changes from a stick to a handheld vacuum cleaner and back again. For speedy spot cleans or versatile home cleaning.
Deep cleans soft surfaces

Removes stubborn dirt from mattresses, upholstery and stairs.

Reaches up high

Lightweight, for easy cleaning in high places.

Car cleaning

Slimline format, ideal for small spaces such as cars and furniture.
Additional features
Easy to wash, easy to maintain8

To remove dust build-up, you can wash the bin, filter, Fluffy™ cleaner head and any tools without electronic components.

Stores and charges

The Dyson Omni-glide™ vacuum slots into the wall-mounted charging dock, ready for your next clean.

Click-in battery9

Four lithium-ion cells deliver up to 20 minutes of fade-free power.10 Click-in battery capability doubles your run time for longer cleans.
1Compared to all cordless vacuum cleaners with soft roller cleaner heads and 360° castor wheels, according to GFK sales tracking data in each market.
2Compared to Dyson V8™ vacuums, tested by independent third party laboratories.
3Tested to IEC 62885 clause 5.1 for hard floors in Max mode.
4Tight spaces refer to gaps that are wider than 20.7cm.
5Tested to IEC 62885 clause 5.1 for hard floors in Max mode.
6Based on ASTM F1977-04 test standard. Tests performed by third-party independent laboratories under the required test conditions. A standard test method for determining the initial filtration efficiency of a vacuum cleaner system. The filtration efficiency of six particulates of non-continuous diameter is measured by the entire vacuum cleaner system (0.3 micron, 0.5 micron, 0.7 micron, 1.0 micron, 2.0 micron, and 3.0 micron or more), the vacuum cleaner system is placed in a fixed state throughout the test process, by counting the number of upstream particles and downstream particles for analysis and obtaining results. Test environment: air temperature (21.1 ° C ± 2.8 ° C) and humidity range 35% – 55%.
7Lie flat backwards only.
8Refer to instructions in the operations manual available on the Dyson website
9Applies in Eco mode when using a non-motorised tool. Up to 18 minute runtime in eco-mode for full product with motorised tool. Run time may vary depending on usage and floor type.
10Additional batteries available separately.